Thousand Yard Stares: Ruins and Ghosts of the Battle of Peleliu, 1944, 2008 « The Wired Jester
In reference to Memorial Day, I came across the above link. More than most battles, Peleliu is one of those that defines sacrifice. The amount of suffering and carnage endured on that small island in the Pacific is difficult to imagine. This is where the term "thousand yard stare" came from.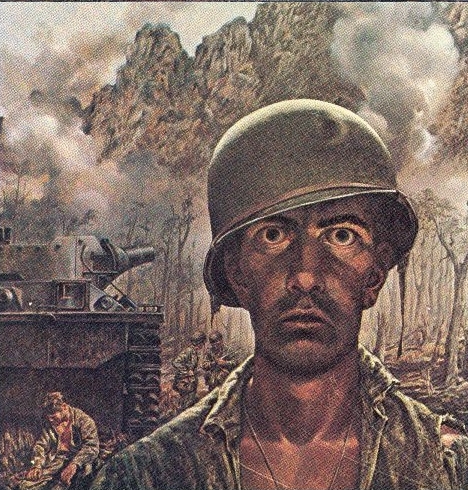 Prior to going to Peleliu, Lea was known more for 'Go America!' paintings, but something changed after that. No longer was it a matter of glory. It was survival.
Peleliu is also the subject of what I believe to be one of the finest wartime biographies ever written. If want a real description of combat and sacrifice, you must read "With the Old Breed" by Eugene Sledge. Sledge was on the island for entire 4 months of fighting. 10,000 Japanese soldiers and about 2000 Americans died on this island 3 Miles Long and 1 mile wide, but that wasn't the worst of it. You have to read the book to fully understand his descriptions of living among corpses for days/weeks in 100 degree heat.
Again, thank you to all those that serve and have served. Freedom is not free, and I try to remember every day what it took to create and keep what we have in this wonderful country of ours.
Next post will be back to technical stuff.